If you are passionate about sustainable living or just trying to reduce the amount of waste going to the curb, choosing compostable products instead of traditionally plastic ones, will go a long way in your goal.
Here, I've put together an ever growing list of compostable products all in one place. This selection includes everything from compostable utensils to packaging and more, all made from natural materials that can be broken down into organic matter through composting.
I believe that making Eco-friendly choices should be easy, convenient, and affordable, so I've tried to provide you with the best selection of compostable products available. Not only are these products environmentally-friendly, but they're also durable, versatile, and practical for everyday use.
Compostable Kitchen Products
Compostable Sandwich Bags
Compostable Pet Products
Rufus & Coco Wee Kitty Eco Plant Tofu Cat Litter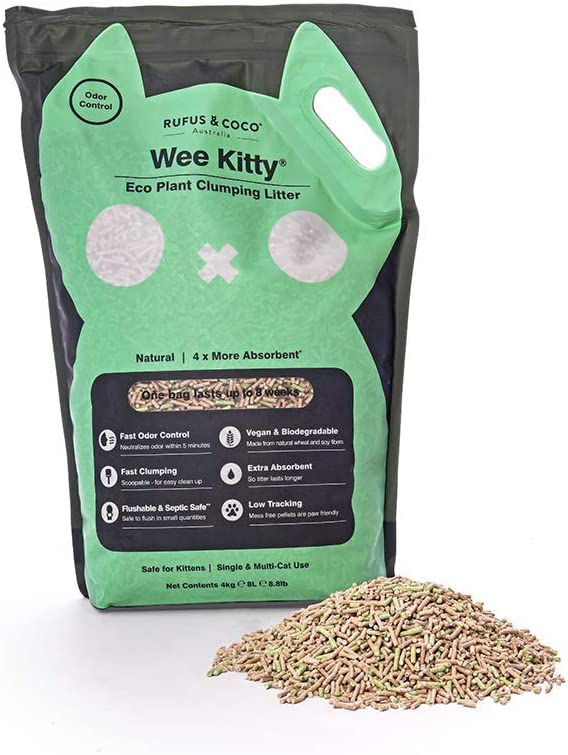 The Wee Kitty cat litter is a "ready-made" product that is made from sustainable and naturally absorbent wheat and soy fibers. This compostable cat litter formula is fast clumping and odor absorbing and generally acts the same as the other commercially made clay and chemically scented cat litter, just more environmentally friendly.
So whether you are looking for an easy way to take the worry about the compost-ability of your cat litter or just an earth-friendly packaged material to use,
There are also a variety of manufactured products that use items such as shredded newspapers, compressed sawdust along with pine and cedar shavings to help with scent issues. These products are more expensive and something to think about when getting into this.
Learn more about using cat litter in your compost bin and how to avoid mistakes
Compostable Laundry Products
We don't think about it much, but many dryer sheets that we use day to day are actually made of various plastics and other un-biodegradable elements. This makes them impossible to compost and end up in the landfill.
There are options now though. With several companies stepping up and ensuring that their dryer sheets are compostable and free of toxic chemicals.
The Seventh Generation "Natural Free and Clear Fabric Softener Dryer Sheets" are one of several good alternatives to traditional dryer sheets and can be found here at the Home Depot. See price.
Compostable Bathroom Products