Did you know that there are more than 30 million households that have pet cats in the United States alone? That's a little over 30% of all the homes in America. And with that many cats, it makes sense that many of their owners may be looking to compost all that kitty litter. The question is, however, can you compost cat litter? The answer is not a simple one.
Yes, you CAN compost cat litter, BUT, and this is a really big but, it depends on the type of litter you use, the method of composting the cat litter, and finally, what the finished compost will be used for. To be safe, you should get all the details before adding your cat's litter box contents to your composting routine.
Let's explore this a little further and see if we can get some answers straight.
Is it safe to compost cat litter?
The short and easy answer that many like to give to whether it is safe to compost cat litter is almost always No, BUT, that's because cat and dog poop contains parasites and bacteria that can harm people and other animals if they come into contact with it.
If a person is not careful with the process of composting their cat waste, there is a chance, even if it is a small one, that the compost may have parasites remaining that may affect the quality of the finished compost. For example, cat feces is widely known to carry a parasite called Toxoplasma-gondii that causes a disease known as toxoplasmosis.
According to the cdc.gov website, Toxoplasmosis can cause serious illness in expectant mothers and people with weakened immune systems. This can occur from just handling infected cat litter on a normal daily basis, even if you do not intend to compost it. The CDC goes on to say that more than 60 million Americans alone may be infected with this parasite, but most with a healthy immune system will have no effects or illness.
composting cat litter can be done as long as you are more careful than just throwing the used cat litter onto the compost heap and calling it a day.
What are the things to consider before composting cat litter?
If you decide to go ahead with composting your cat's litter, there are a few things to remember before doing so. For one thing, the type of cat litter you use should be fully biodegradable. This means you shouldn't use the clay-based, sand, scented, or "chemically clumping" style litters that are very popular now. These kinds of cat litter do not break down in the compost very easily or they contain chemicals that will still be present in the compost long after it has been mixed with your garden in the future.
Another thing to consider when starting to compost your cat's litter is that when using more natural and scent-free litter bases, you will either need to get used to the smell of your cat's waste or change the litter box almost daily! I know this is a big one for me and why many people who start composting their cat's litter stop doing so within a short time.
Instead, the kind of kitty litter you want to look for would be sourced from all-natural "ingredients" such as sawdust (untreated is best) or, what one of the most popular natural brands is made of, wheat.
Rufus & Coco Wee Kitty Eco Plant Tofu Cat Litter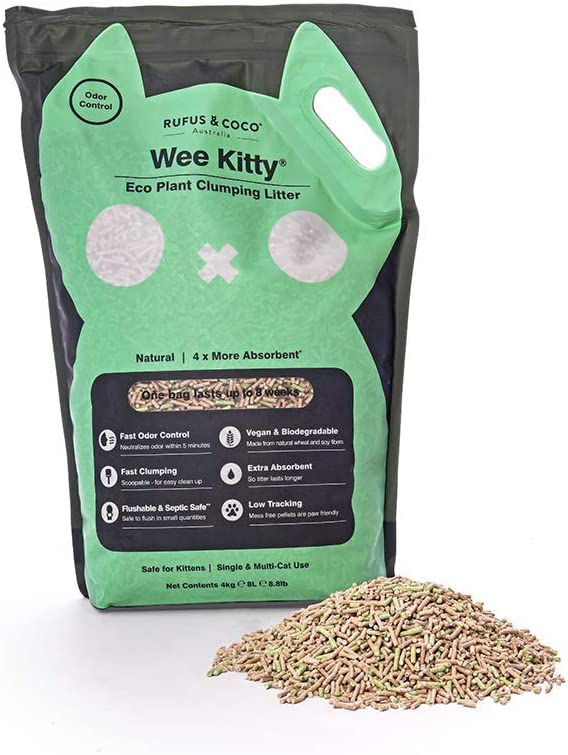 The Wee Kitty cat litter is a "ready-made" product that is made from sustainable and naturally absorbent wheat and soy fibers. This compostable cat litter formula is fast clumping and odor absorbing and generally acts the same as the other commercially made clay and chemically scented cat litter, just more environmentally friendly.
So whether you are looking for an easy way to take the worry about the compost-ability of your cat litter or just an earth-friendly packaged material to use,
There are also a variety of manufactured products that use items such as shredded newspapers, compressed sawdust along with pine and cedar shavings to help with scent issues. These products are more expensive and something to think about when getting into this.
Some questions you should ask yourself before starting to compost your cat's litter
How much more will this cost?
Do I want to clean out the litter box on a daily basis?
Will the smell be too much for myself and guests to handle?
Will I want to or be able to continue this in bad weather or in the winter time?
Are there alternatives that make more sense?
Of course, the winter one really only affects those of us that live in the northern climates, but the question of whether or not there are any alternatives to composting your cat's litter is one that we can look at here.
Some municipalities throughout North America and around the world have large composting or organics collection programs in place where the homeowner can either leave at the curb or drop-off at a depot their recyclable and biodegradable waste. Many of these programs will also accept pet waste as well, usually as long as it is wrapped up in a separate biodegradable plastic bag or something similar.
If your main concern about composting your cat litter was because it may just be contributing to filling up a landfill, then maybe it is worth looking up to see if your community offers such a program.
What types of composting can be used to compost kitty litter?
Many different types of composting are available when it comes to kitchen and yard waste, like a trench system, hot pile, and vermicomposting, but when dealing with your pet's waste, such as cat litter, there really is only one way that it should be dealt with. And that would be in a hot compost pile.
Visit our Different Types Of Composting page to learn more about your options on composting various materials.
Building a hot compost pile for cat litter
If you have space in your yard, I highly recommend keeping the cat litter or pet waste compost pile separate, at least initially, from the compost pile you already have for general kitchen scraps and yard waste. The reason is that, unlike the food and yard waste compost, you shouldn't risk any incomplete cat litter waste in your gardens.
This is, of course, an overabundance of caution being taken here because, on any given day, there could be a cat doing its business in your yard or garden, but when we are concentrating a larger than-normal amount of cat waste in one spot, you can never really be too careful.
I have written a page about testing your compost before you use it to see if it's ready for the lawn and garden.
Where can you use the finished cat litter compost?
Once your compost is complete, you may begin spreading it throughout your yard. The compost is great for around fruit trees and shrubs and could be spread throughout the lawn in a very thin layer that can be raked in thoroughly. Cat litter compost works well in the lawn, especially because, since it was composted in its own pile, there will be very few twigs or stones that can be picked up and thrown by the lawn mower in the future.
When it comes to vegetable gardens, I tend to shy away from putting the finished cat litter compost into it directly. Instead, I would prefer to slowly add the finished compost to your kitchen scrap and yard waste pile at this time as a base layer to help that pile to break down. Adding this step will both aid in the break down of the new organics and further break down the intimal cat litter compost and "dilute" it with the new compost.
Once again, it is not that the cat litter compost is unsafe to use by the time it has fully broken down in the bin, it is just that it will generally take a full six months longer for it to break down than that of kitchen scraps and yard waste. Many people who are not familiar with composting may not wait long enough or have pet waste that is not fully ready to be put into a vegetable garden. Adding an additional step will force that the compost will be good enough in the future.
Steps to composting cat litter?
The process of composting cat waste is similar to that of composting other organics. And if you have a way of separating the compost into several stages you will have an even easier time of it.
First off, you want to keep the pile separate, either with a commercially made compost bin or one that you make. A homemade one can be as simple as a few boards or fencing put together or as complicated as you can imagine it. It doesn't really matter on the one you chose as long as it can be kept separate from your other organics. Remember not to make a base or floor of your bin. It should be open to the ground so that mother nature can do her job as well and allow worms, moisture, and other natural process take their place in helping the cat litter break down.
Once your bin is ready, start off with a base of a few inches of leaves, sawdust or other natural materials. Then as you need to, just deposit the cat waste onto the pile as needed. Whenever you need to fully clean out the litter box, just dump the entire contents onto the pile but this time, cover the pile with another layer, approximately with one inch or so of leaves, sawdust or soil.
Continue this for several weeks to a month and a half. After this time, it is a good idea to start to mix the pile. This will help aerate the compost pile and keep the process of turning all this into compost going. Continue mixing several inches of cat litter with one or two inches of other organics like soil or leaves for several months. Depending on the size of your compost bin and how much litter you have you may be getting close to maxing out the capacity of your bin. Now is the time to move the more advanced contents to your other bin, or just keep it separate now so as to not add any more new material to it.
This is where having separate bins or piles is good because you can have several stages going on without worrying about mixing premature compost with the aged compost.
Your second compost pile will still need to be mixed or aerated every couple of weeks or so for optimal results while you can keep adding new material to your original pile or bin.
Continue this process for a total of 1 year or even 18 months in colder climates to ensure that the process is complete. Check the oldest pile you have and see how it has progressed, by now you should have what looks and feel like black soil that smells very earthy. There should be no signs of what it used to be at all
At this point it should be fine to now place this finished compost around trees, mix with other potting soils or to add as a base layer for new cat litter or kitchen scrap and garden waste composters.
Over time you will get the hang of these steps and even streamline the process for what works best for your situation. This is one of the more time consuming and difficult aspects of composting that the general homeowner will handle so even if composting cat litter ends up not being for you I hope that you still stick with the techniques of composting at home as it can greatly help your garden.
More Composting Options
Adding a larger assortment of materials to your compost pile will help it flourish and become even more beneficial to your garden in the future.

See how to use wood ash in the compost and what woods you should avoid.